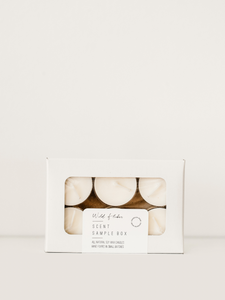 Not sure what scent to select? Our scent sample box is the perfect way to test our different scent options. Each box includes 6 different tealight candles.
If there is a specific scent(s) you would like to try please include the scent name(s) in the request box above. We cannot guarantee that scent(s) will be included in your box but we will do our best to accommodate all requests
*Each candle is hand poured & made in small batches, there may be slight differences between each candle.
Sample boxes are a final sale.