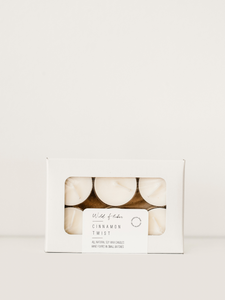 Tea Lights candles are the perfect addition to any home décor. Package includes 6 tea light candles.
Approximate Burn Time:
Our Candles are
Hand poured in small batches
Made from all natural soy wax
Lead free wicks
Phthalate & paraben free fragrance
Contain no animal byproducts or testing
Recyclable or reusable jars
Made in Ontario Canada
Burning Tips
Always trim the wick height to ¼ inch before each burn
Allow the entire top layer to melt and reach the outer edge during your first burn.
*Each candle is hand poured & made in small batches, there may be slight differences between each candle.