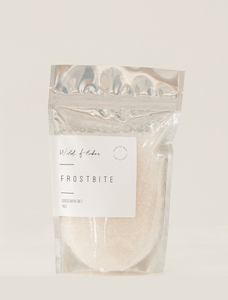 Take a deep breath in and enjoy the crisp winter air. A blend of eucalyptus and peppermint.
This perfect blend of scented bath salts will set the tone for a dreamy relaxing bath.
Our bath salts are a blend of dead sea salt and Epsom salt. Dead sea salt is packed with 21 essential minerals and can hydrate skin, ease sore muscles, replenish balance and brake down toxins. Epsom salt can help promote sleep, reduce stress and ease sore muscles. 
Our Bath Salts are
Hand made in small batches
Made from natural salts
phthalate & paraben free fragrance
Contain no animal byproducts or texting
Made in Ontario Canada