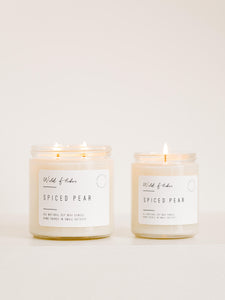 Perfectly poached bosc pears paired with a blend of spices. The perfect twist to the traditional apple cider.
Approximate Burn Time:
Single Wick Jar - 8oz - 47 hrs.
Double Wick Jar - 16oz - 82 hrs.
Our Candles are
Hand poured in small batches
Made from all natural soy wax
Lead free wicks
Phthalate & paraben free fragrance
Contain no animal byproducts or testing
Recyclable or reusable jars
Made in Ontario Canada
Burning Tips
Always trim the wick height to ¼ inch before each burn
Allow the entire top layer to melt and reach the outer edge during your first burn.
*Each candle is hand poured & made in small batches, there may be slight differences between each candle.
Warm
I've never had a pear scented candle before, but decided to take a chance on this one as the spice notes intrigued me. It is so warm and spicy, and the pear notes round it out. It really is a refreshing alternative to apple or pumpkin spice!